<!IMG align = middle src="jyard.jpg" height=269 width=629>

Now that the Junkyard is closed, who's going to host the fire warning when we go off the air?
Fire Hazard Information

Here's some pretty serious fire hazard information for air cooled Volkswagen owners.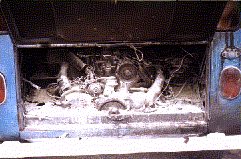 There are two fire warnings to be obtained here. One warning is about Solex carbs and the other warning is to owners of post-67 buses who smell gas fumes. Click on the picture of Flaming Moonbeam taken just after the farmer at milepost 21.3 on the PA turnpike emptied his fire extinguisher into her engine compartment. And a side note: The vinyl Westphalia cushions sure do give off some toxic fumes when they burn - just like the goo that holds the carpet to the rear firewall in an old beetle.


Click on Mario's Karmann Ghia to find out how to buy a fine, fine, super-fine VW for peanuts.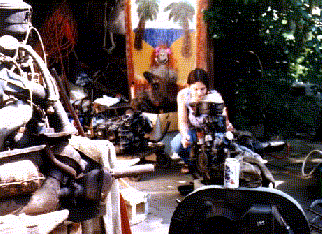 Click on Pam (shown here working on 4 engines at once) to see what happened when she roached her engine down in Tennessee.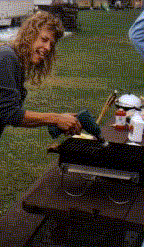 Here's Aunt Mary cleaning that gross carbon stuff from last season off of the bar-b-que grill with the Makita. Click on Aunt Mary to see how she ended up with all those VW buses behind her place.

Click on the Orange Hippie van to read what happens when the drawbar on an old bus finally lets go.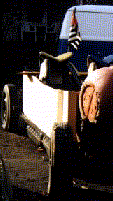 The Schwendlemeyer Schwimmerwagen is not a true schwimmerwagen, but a collection of parts from the junkyard assembled with the idea of floating on water. That goal is sometimes met and others not. It has floated on a strip-mine acid-runoff pond in southern Ohio, and the Cuyahoga River. Click on the Schwendlemeyer Schwimmerwagen to read it's latest adventure crossing Lake Erie. Or take a look at Tom's new project, the Advanced Hovercraft Schwimmerwagen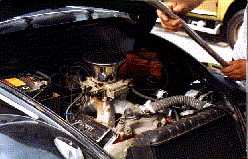 The MaddMan is selling his stuff. And what a lot of stuff he has; barns full of Volkswagens and dune buggies and corvair engines and there's a big field out in back. Click on The MaddMan's V-8 Bug to see his list of stuff for sale or trade.

Click on Black Dog to find out more about the junkyard security blanket.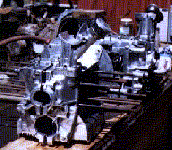 Or click on the fine, shiny engine blocks to read the REAL first four steps to pulling a VW engine, and they don't have to do with which nuts and bolts to loosen first.
Download plans for a Junkyard Sandblaster that delivers more pressure and volume than those plastic store-bought sandblasters, and it's made from an old propane tank and used plumbing material.
Since he became Safety Officer during construction of the new building at the Junkyard last year, AJ has been a real pain-in-the-ass about safety. Click here to see what happened when the cop gave him a lecture about not wearing a seat belt while driving the Clubhouse.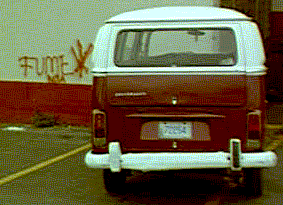 "...The Junkyard trip to Costa Rica started three days after Chrismas 1996, when the Richfield cop and the Richfield zoning lady showed up at the Junkyard. They didn't ring the bell, but immediately set to lurking about the property." Click here for a report of the trip to Costa Rica. Or click on the late model bus parked at the Pali in downtown San Jose for pictures of Tico VWs and beautiful women.
Is it Happy Hour yet? While surfing the web, Mario found this review of our favorite watering hole (the Local, as the Aussies say), The Doug Out Bar and Grill , so we stole it and here it is. But don't tell Doug that this is where you saw it...



           6 V battery           6 V battery
            ________              ________
           | +    - |            | +    - |             common
+----------|-o    o-|-----+------|-o    o-|------------ ground
|          |________|     |      |________|
|                         |
12                        6 
volts                    volts

Converting a 6 volt bug to 12 volts? Here's how to do it and some thoughts about why you might not want to do it at all.
From those of us who DON'T live in sunny climes, here's some notes on Winter driving in air-cooled VWs.
Here's some tips on scrapping out that old junk VW, and how to sell those parts you'll never use.
How the Swinging Fatbob came to own the Turbo bus.
The Air Cooled Volkswagen Junkyard is famous for its free advice. But remember, you get what you pay for. Here's some free advice about converting to right hand drive. Here's more free advice about buying an old VW. And here's some free advice if you have an automatic transmission in your bus.
More tales from the Junkyard. Our neighbors and friends.
Visit The Parts Locateur to find those hard to locate air cooled VW components.
Here are a handful of Links to Other VW Pages including today's San Franscisco Chronicle and Seattle Times classified ads.


These pages created and maintained by ModaLogic Inc. copyright 1996 ACVWJYRO. If you need free advice, call the Junkyard at (216)659-3638. Otherwise, if you would like to contact the Junkyard, the E-mail address is junk@acvwjyro.com


webcounter says